TOURISIC SITES
IN CAMEROON
Cameroon is a choice destination with a lot of attractions for any visitor. The country has a lot of natural attractions and many other phenomena that are not found anywhere else in the world, making it possible to have various categories of tourism.
---
Heritage Sites
Cameroon is one of the older countries of Africa and therefore has a lot of cites that can claim to be labelled as World Heritage Sites. There are several rich, historical, cultural and unusual attractions in Cameroon that form part of Cameroon's heritage. The diversity of languages, about 250 spoken by about 18 million people is in itself one of Cameroon's great cultural heritages. The list below are just some of the sites we want to you discover. We also advice you to get your cameras ready for in Cameroon there is so much to see and discover.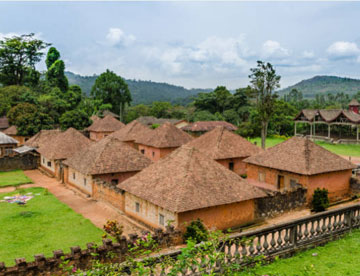 The Bafut chiefdom or Fon Palace
A requested Cultural World Heritage Site, this site is located near Bamenda. This area has about 50 buildings, most of which are terracotta structures, with tiled roofs. The centralstructure known as "Achum" is architecturally and religiously most important. This count among one of the oldest traditional architectures in Cameroon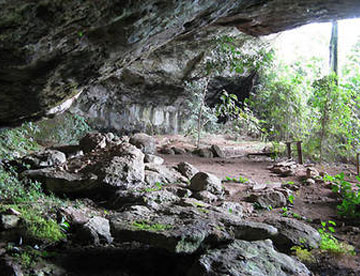 Arch'l. Remains of Shum Laka
This site under the shelter of a huge rock of 1200 sq miles close to Bamenda. An archaeological heritage site has remnants of a typical forest land, where skeletal remnants of men living thousands of years ago were unearthed. Belonging to the Community of Baforchu, this site gives a view of how mankind evolved in this part of the world.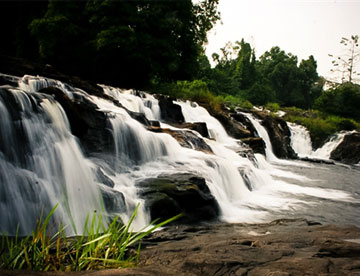 Falls of the Lobe
310 km from Yaounde this falls is characterized by a whole set of small arms progressing in a series of smaller falls, some as high as 15 m and as broad as 100m, directly falling into the mighty Atlantic Ocean. Along the series of falls a large number of tribal populations can be found to reside. It is a must visit tourist attraction in the country.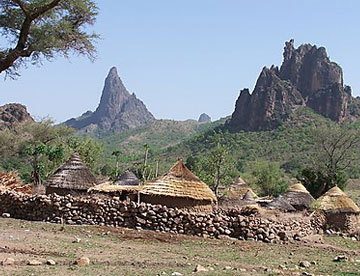 The Diy-Gid-Biy of Mandara Mount
Meaning 'Eye of the Chief at top', this archaeological site is made of dry stone. This structure indicates that area had been inhabited more than three centuries ago by some tribes other than the ones which inhabit the land today. It is an architectural heritage.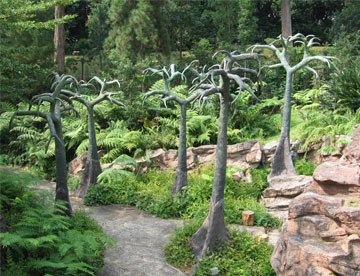 Limbe Botanical and Zoological Garden
Internationally recognized as one of the most active gardens in tropical West and Central Africa, this garden as a natural gateway to the Mount Cameroon region. Limbe Botanic Garden provides a peaceful escape from the nearby bustling city.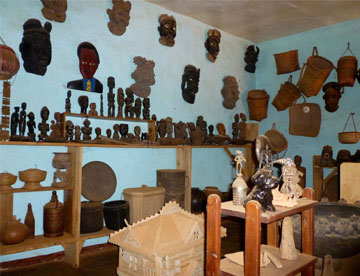 Musa Heritage Gallery
Named in the memory of Cameroonian artists Daniel and his son John Musa, this heritage gallery preserves works of the artists and then spread further to cover the arts and crafts of Cameroons westernsGrass fields. Over 400 diverse and varied objects are collected and preserved in the museum.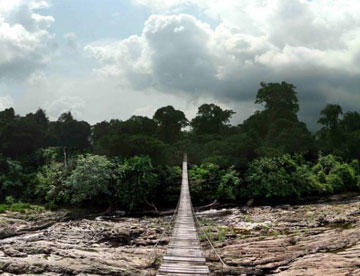 Korup National Park
Created in 1986, this park in located in the southern parts of the country. It is characterized by heavy rainfall. The four types of vegetation particular to this forest are - The Atlantic forest biafr?ene, the marshy forest, the forest submontagnarde and the forest of piedmont. It houses 1700 species of plant, 410 species of birds representing 53 families, 480 species of butterflies, 82 reptilian species and 161 species of mammals.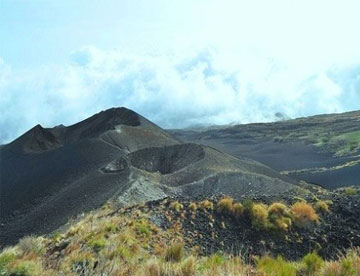 Mount Cameroon
Located in Southwest Province of Cameroon, this active volcanic mountain is the highest in the West and Central Africa. Supporting Montane tropical forests and about 150,000 hectares of lowland, it is home to vast reserves of biodiversity, hosting more than 1500 different plant species as well as animal species. Its black volcanic soil makes it and the surrounding regions one of the most fertile places in Cameroon.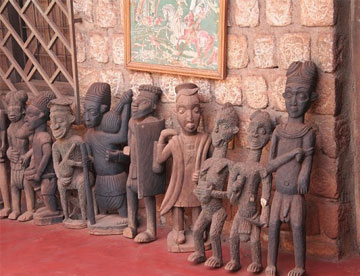 Babungo Museum
It houses very well preserved objects from the rich cultural and artistic heritage of the Babungo tribe of Cameroon in the North West province. The art objects are clear indications of the various aspects of social life and the artistic heritage of the kingdom. Although a whole range of objects were not available for preservation, the remaining ones still talk of the rich tradition and heritage of the Babungos.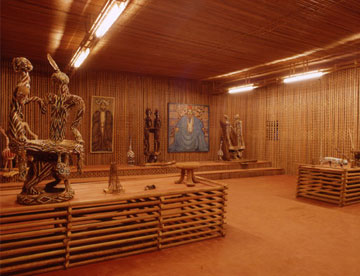 Museum of Bandjoun
Bandjoun was one of the important centres of artistic creation and tradition in the Cameroonian Grassland and the museum exhibits over a hundred important objects depicting this cultural heritage. Rare and wonderful remnants symbolizing African art can be seen in the museum. It houses the historical artifacts that showcase the development of art, craftsmanship, and local history.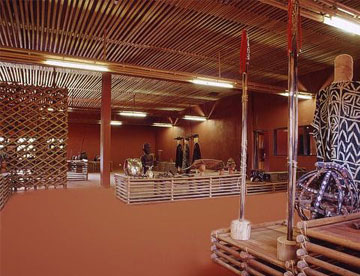 Mankon Museum
The cultural and artistic production of the Kingdom of Mankon of the high plateaux of Western Cameroon or the Grassland is preserved in this museum. The artefacts and objects demonstrated speak volumes aboutthe culture of the kingdom and how it has contributed to the culture of the country. The objects speak a lot about their users and the usage.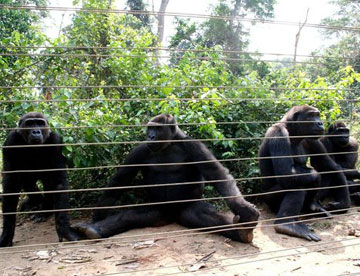 Mefou National Park
Situated about an hour and a half away from the capital city, this national park covers about 1044 hectares of forest land. It houses chimps, gorillas, baboons and various other species of monkeys. It is home to Mefou Primate Sanctuary, a rescue and rehabilitation centre run by Ape Action Africa. With more than 300 rare and endangered primates in its care.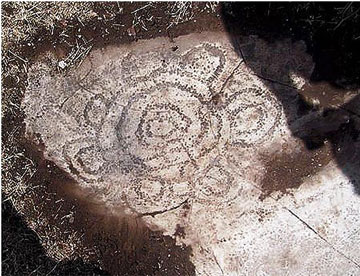 The Rupestral Engravings of Bidzar
The Bidzar petroglyphs are located near Bidzar village, on the Maroua-Garoua road toward Guider. An area of marble flagstone extending around the village circa 2.5 km from north to south,and one kilometre from east to west displays around 500 engraved figures in total. The marble is of a calcareous type called cipolin; it has an ideal composition for engraving, having low resistance to friction and breaking easily. Figures were engraved into the marble using a hammer and an engraving tool. The figures are mostly geometrical, consisting of groups of circles, some isolated and some in groups. It has been speculated that the engraving represent concepts or stories from myths...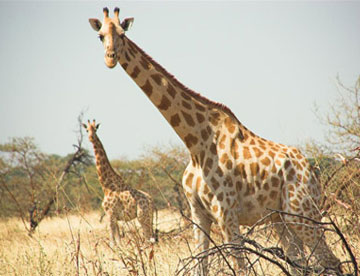 Waza National Park
The Waza National Park was founded in the year 1934 and was originally meant for hunting reserves. However, in the year 1968, it was converted into a National Park with a land area of about 1,700 km and even became a UNESCO biosphere reserve. This Park is the most accessible and rewarding wildlife viewing experience of Cameroon. Large numbers of elephants, giraffes, hippos, antelopes, monkeys and abundant birdlife welcome the visitors to this natural reserve. This National Park is said to be a special place and the most visited one. With some luck and a very early start, one can even have the good fortune of meeting a lion within the premises of the park.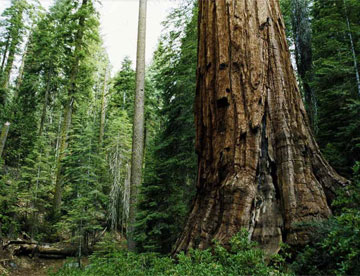 Dja Faunal Reserve
This is a UNESCO Natural World Heritage Site inscribed in 1987. Covering the South Eastern part of the country, this national park is one of the largest and best protected rain forests in the country.With about 90% of the area still undisturbed and bordered naturally by the Dja River which almost completely surrounds it, the bio diversity and wide variety of primates from this reserve deserve special mention. Along with 5 threatened species, there are 107 mammal species in this reserve. There are more than 1,500 known plant species in the reserve and more than 320 bird species in the park. The Dja Faunal Reserve covers 5,260 km2.